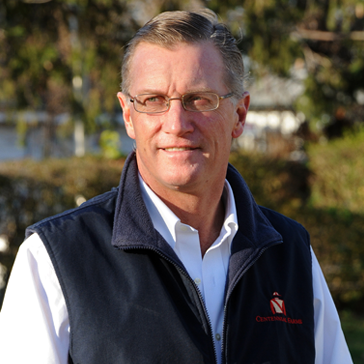 Donald V. Little, Jr.
President & Co-Owner
Donald Little, Jr. is the President and Co-Owner of Centennial Farms.
A lifelong horseman with knowledge of every aspect of Thoroughbred racing, he leads Centennial Farms' day-to-day operations and works in tandem with the professional horsemen and women who select the yearlings for purchase, oversee their training, and manage their racing careers.
Mr. Little is an active member of the Thoroughbred Owners and Breeders Association and attends all the major sales in North America, supervising the purchase of Centennial's racing stock.
In addition to his lifelong involvement with thoroughbreds, he is a world-class polo player who has competed on three different continents at the highest levels of the sport.
He played on the University of Virginia polo team, has served on the Board of Governors, Executive, Tournament, Handicap, and Nominating committees for the U.S. Polo Association.
Mr. Little currently serves as Vice-President for the Belmont Child Care Association as well as the Board of the Wenham Museum Equestrian Histories Committee.