Pulpit – Multiply by Easy Goer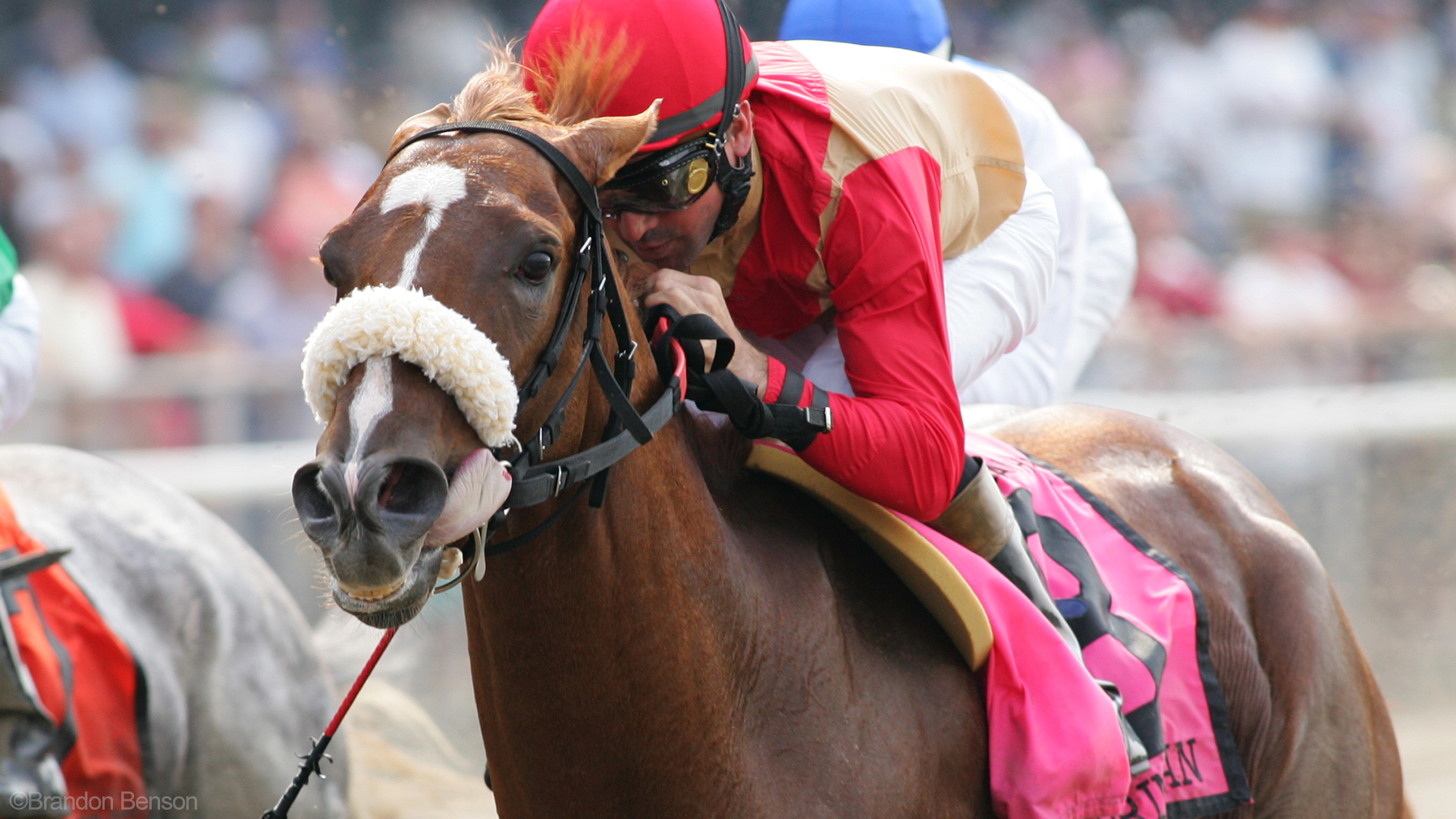 First: 6
Second: 1
Third: 2
Few horses have the natural ability and personality of our millionaire and Grade I winner Corinthian, who retired to stud at Gainesway as the richest son of the stallion sensation Pulpit with earnings of $1,267,273. He has since relocated to Pin Oak Lane Stud in Pennsylvania, where he has ranked among the top three stallions for the past two years.
Corinthian burst onto the scene as a three-year-old at Gulfstream Park, where he defeated eventual Belmont Stakes winner Jazil in a February allowance before targeting the Aventura Stakes for his black-type debut.
Before the Aventura, the colt was very aggressive and began to display the definitive personality that will be remembered as one of his trademarks. He was very hot and bothered in the paddock and refused to go to the post with a pony while on the racetrack. When the field entered the starting gate, Corinthian reared up when another horse acted unruly and had to be scratched before the start of the race. Trainer Jimmy Jerkens targeted the G2-Fountain of Youth Stakes for Corinthian's next race.
In the Fountain of Youth, Corinthian again displayed his aggressive personality, as he finished first, but was disqualified for weaving through the stretch. While the DQ was warranted, there is little doubt Corinthian was the best horse, as he made a bold move to quicken away from Grade I winners First Samurai and Flashy Bull while stamping himself as a leading contender for the 2006 Triple Crown.
Acclaimed turf writer Gary West said it best of Corinthian's Fountain of Youth performance:
Here's what's most impressive about Corinthian: Even when zigzagging at Gulfstream, he refused to let a horse get by him and finished a length in front. He's not crazy, just indomitably aggressive, and if he can focus that aggression on racing, then red could be the color of the best three-year-old in America.
Corinthian never got his chance at the Triple Crown, as he was injured training towards the Wood Memorial with a minor hairline fracture on the top and front of the pastern bone in his left hind leg.
The remainder of Corinthian's three-year-old season will be remembered for a series of minor setbacks. The colt developed a skin rash at Belmont Park that did not allow him to train under-tack.
Following a very average third-place finish in a potential prep for the Travers at Saratoga, the Centennial team and trainer Jimmy Jerkens decided to send Corinthian back home to Paula Parsons in Middleburg, Virginia to allow the skin rash to completely heal.
The patient approach paid off, as he thrived in Middleburg while Parsons gave him the foundation that would allow him to develop into the world's best middle distance dirt horse in 2007.
Returning to Gulfstream Park for his four-year-old debut, Corinthian was entered in an allowance race against his old nemesis Jazil, a horse he had defeated twice the previous year.
Things had only improved for Jazil since then. While Corinthian was injured during the Triple Crown, the Shadwell colorbearer finished fourth in the Kentucky Derby before galloping home an impressive winner of the Belmont Stakes.
Most eyes were focused on Jazil in this allowance race, but it was Corinthian who left the lasting impression, thrashing Jazil for the third-time, winning by 9 ½ lengths under Javier Castellano.
The strength of his allowance score was evident in the race call by announcer Larry Collmus, a veteran on the microphone known for his soothing and calm voice. In racing circles, Collmus is known as one that will only give glowing praise when something noteworthy happens on the racetrack.
As Corinthian began to draw away through the lane, the tone of Collmus' voice began to change. It did not sound like a regular allowance race, instead that of a discriminating announcer who had just witnessed sheer brilliance.
"It's Corinthian, and he's six lengths in front at the top of the stretch…Corinthian has run away, he's way in front of Jazil… What a comeback this is, Corinthian won it by 10."
The next stop was the Grade II $350,000 Gulfstream Park Handicap, where Corinthian was the even-money favorite looking for his first official graded stakes victory.
Corinthian again displayed his trademark tenacity, holding off the oncoming run of graded stakes winners Hesanoldsalt and A.P. Arrow through the final strides to score by a neck. This was his first stakes victory, and now breeders began to take notice this could very well be a serious stallion candidate.
Corinthian returned to Aqueduct in April for the Excelsior Handicap, but could do no better than fifth after completely missing the start.
It could have been easy to lose faith after this lackluster performance, but trainer Jimmy Jerkens and racing manager Dr. Stephen Carr decided to freshen Corinthian for a start in the ultra-prestigious Grade I $750,000 Metropolitan Handicap, a race known as the "stamp of stallions."
It was a breakthrough performance, as Corinthian contested the early pace and easily held off the oncoming charge of Grade I winners Political Force and Lawyer Ron to score by ¾ of a length.
The Met Mile victory was Corinthian's first in Grade I company. Trainer Jimmy Jerkens was optimistic that Corinthian would run well, as he had an impressive workout in the days leading up to the race.
"The work a week ago (5f in a bullet 58 seconds) was beyond anything I ever saw. I never had a horse do what he did. He was just strong all the way. He was terrific all week. I thought if he didn't run good today, he just wasn't good enough."
Jockey Kent Desormeaux was aboard for the first time in the Met Mile, and he gained confidence through the race that Corinthian was going to run to his potential.
"You couldn't have planted me at the 1/2 mile pole and asked for better position. More than the position was the way he was carrying me. When a good horse is traveling well, 45 feels like 48 (seconds). I thought we were going slow, but I knew the caliber of horse I was on. He was so within himself. Coming to the 3/8 pole, he kind of got into gear and acted like he wanted to go for the wire. That was the only time I restrained him and said, `No, not yet.' When the horses engaged, he jumped back in the bridle. I didn't have to ask him for much, even when it was time to go. In the stretch, I thought he was just doing enough, quite frankly. All I could hope for at that stage of the race was that nothing came swinging wide and he couldn't see it. He was really determined."
Corinthian's next two outings were average races in the Suburban Handicap at Belmont and the Woodward Stakes at Saratoga. At that point, the decision was made to run in the inaugural Breeders' Cup Dirt Mile instead of the longer Breeders' Cup Classic.
Making his debut in the most difficult of conditions, Corinthian handled the sloppy surface, darkness and world-class competition with little difficulty, thrashing a field of the best middle distance dirt horses in the world by 6 ½ lengths, while finishing just a fifth of a second off the track record. He earned a Beyer rating of 119, the same Curlin would receive for his Breeders' Cup Classic score the next afternoon.
"This red colt, he was a fireball down the lane," said Desormeaux. "He was certainly trying to dry his path; he was a rocket down the line. He's a brilliant miler as we know."
For Corinthian's six partners, the victory was pure elation, in addition to a healthy financial score. The colt gave everyone here at Centennial a great run over four years.
One of his owners, Wayne Leizear of Greenwich, CT, might have said it best after the race.
"We could have another as good as Corinthian, but I don't think we will ever have another with his personality and flair for the dramatic. With all the ups and downs, what a way to complete his career."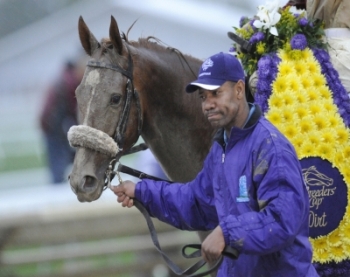 Corinthian and his groom, Junior McFarlane, after their Breeders' Cup Dirt Mile victory.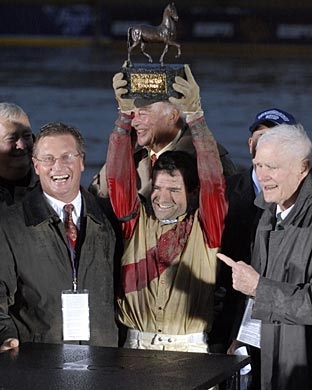 Jockey Kent Desormeaux hoists the Breeders' Cup trophy alongside a beaming Don Little, Jr.
Little Talks Centennial on Racetrackers
Days after impressive victories by Unified and Securitiz at Gulfstream Park, Don Little, Jr. headed to Racetrackers to discuss their prospects, the Centennial Farms philosophy, and reminisce about Wicked Strong,...
Read More