Every year, the Ocala Breeders' Sales offers the opportunity to purchase some of the best two-year-olds in training. Recent graduates of their sales include two-time Pegasus World Cup Turf winner Colonel Liam, 2021 Champion Two-Year-Old and Breeders' Cup winner Corniche, 1-2 Saudi Cup finishers Emblem Road and Country Grammer, G1 winner Cafe Pharoah, and potential Florida Derby favorite White Abarrio. Our experienced acquisition team assembled at the March Sale to find colts who meet our standards of combining an outstanding physical with the pedigrees to excel on track and as stallions. To say Dr. Stephen Carr and Paula Parsons succeeded in that goal is an understatement. The newest additions to the roster are:
Hip 154: Liam's Map – Star Torina, by A. P. Indy
Hip 357: War Front – Claire de Lune, by Galileo
Hip 567: Malibu Moon – Leaveminthedust, by Danzig
ORION'S WAY
LIAM'S MAP – STAR TORINA by A. P. INDY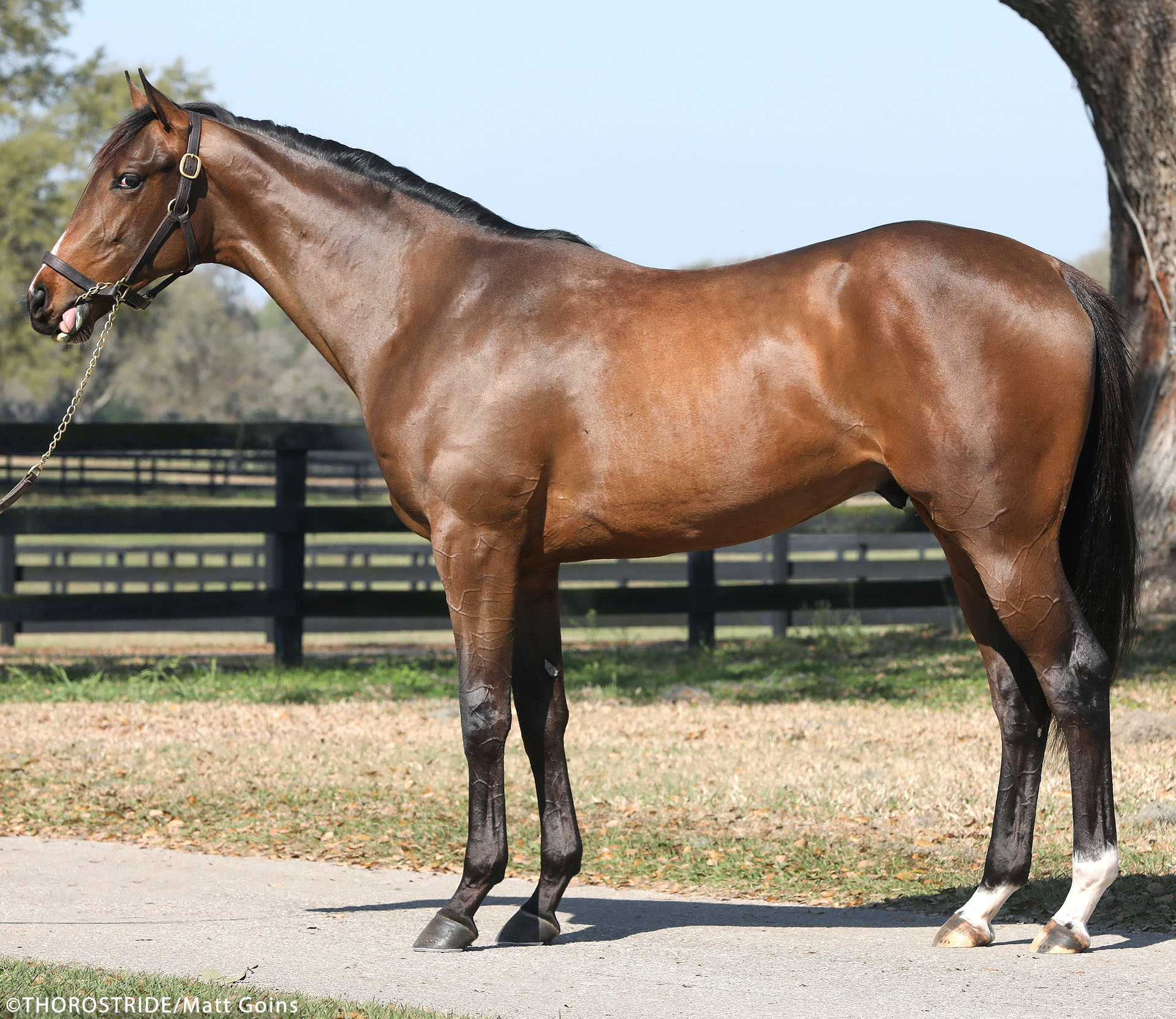 Purchased for $150,000
By a brilliant racehorse, who is now one of North America's fastest-rising young sires, this colt is out of a stakes producing A.P. Indy mare.
Liam's Map was a spectacular racehorse, capturing six of his eight starts, including a dominating 4 ¾-lengths victory in the Woodward Stakes (G1) and a spectacular track-record breaking triumph in the Breeders' Cup Dirt Mile (G1).
The heir apparent to his sire, Unbridled's Song, Liam's Map has made a tremendous start at stud. From his first three crops, he is already the sire of 13 stakes winners, led by Colonel Liam, winner of three grade one events, including back-to-back editions of the Pegasus World Cup Turf Invitational (G1); Frizette Stakes (G1) winner Wicked Whisper; Hopeful Stakes (G1) winner Basin; and Juju's Map, winner of the Alcibiades Stakes (G1). Other notable graded stakes horses include Crazy Beautiful, Rushie, and Churn N Burn.
The dam of this colt, Star Torina, a daughter of A.P. Indy, is bred on an identical A.P. Indy/Mr. Prospector cross as Mineshaft, Pulpit, Malibu Moon, Congrats, Flatter, Tempera, and Tomisue's Delight. She is also a sister to Adriano, who captured the Lane's End Stakes (G2) and Kent Stakes (G3), and half-sister to Gold d'Oro, not only a graded stakes performer but also the dam of Strike Power, winner of the Swale Stakes (G3) and second in three other graded stakes. Star Torina's produce include the talented Lipstick City, whose victories include the Boiling Springs Stakes, Wasted Tears Stakes, and Christmas Past Stakes.
Granddam Gold Canyon is a winning daughter of Mr. Prospector out of the Santa Anita Oaks (G1) heroine Golden Treat, herself a half-sister to Bet Twice, the Belmont Stakes (G1) winner who finished second to Hall of Famer Alysheba in the Kentucky Derby (G1) and Preakness Stakes (G1).
Note that this colt is a product of the TrueNicks A+ rated Liam's Map cross with A.P. Indy-line mares which has already produced four stakes winners, including Colonel Liam, Juju's Map, and Wicked Whisper.
WAR OFFICER
WAR FRONT – CLAIRE DE LUNE by GALILEO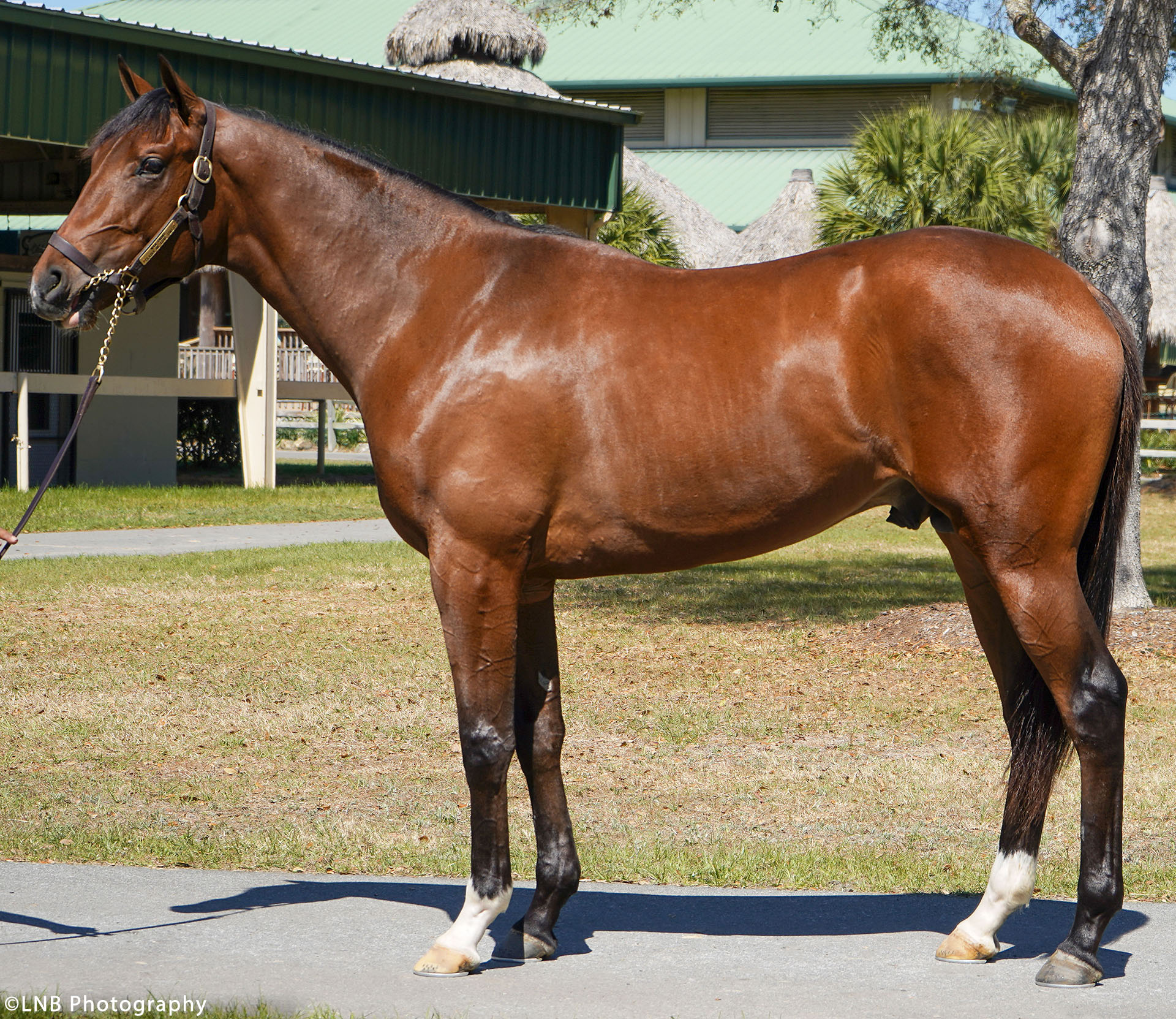 Purchased for $120,000
By one of the world's great sires, out of a black-type mare from a sensational family, here we have a colt bred on a cross that has been proven to produce champions.
War Front, a son of Danzig, has enjoyed extraordinary international success as a stallion with more than 100 stakes winners, among them group and grade one winners in five different countries. Overall, no less than 23 of War Front's offspring have captured grade one events, including European champions Declaration of War (Older Horse); U S Navy Flag and Air Force Blue (Two-Year-Old Colts); and Brave Anna (Two-Year-Old Filly); as well as North American stars Omaha Beach, War of Will, The Factor, Avenge, Jack Milton, Data Link, Hit It A Bomb, Halladay, Summer Soiree, American Patriot, Civil Union, War Flag, Peace and War, and Fog of War.
Claire de Lune, the dam of this colt, was a black-type performer in France and is a daughter of the legendary sire Galileo. Claire de Lune is a half-sister to no less than four stakes winners. They include Moonstone, heroine of the Irish Oaks (G1) and dam of multiple group winner Nelson (by a son of Galileo), U S Army Ranger (by Galileo), a group winner who was second in the English Derby (G1), and three other stakes winners. Claire de Lune is also a half-sister to L'Ancresse, Breeders' Cup runner up, Irish highweight, and the dam or granddam of multiple stakes winners, most of them by Galileo or one of his sons. Another half-sister to Claire de Lune, Cerulean Sky, captured the Prix Saint-Alary (G1) and is the dam of group winning and classic placed Honolulu; granddam of group winners Royal Bench, Mayhem, and Memphis Tennessee; and third dam of stakes winner Sky Angel. There are an additional six more stakes winners, including current grade one winner Wellington, descending from other half-sisters to Claire de Lune.
Claire de Lune's granddam, Truly Special, is a group winning daughter of Arctique Royale, herself successful in the classic Irish 1,000 Guineas (G1).
This cross of War Front with Galileo mares has already produced an astonishing 11 individual stakes winners, including Champion U S Navy Flag, group and grade one winners Fog of War and Roly Poly, and group and graded winners Battleground, Masteroffoxhounds and Military Style.
METEORITE
MALIBU MOON – LEAVEMINTHEDUST by DANZIG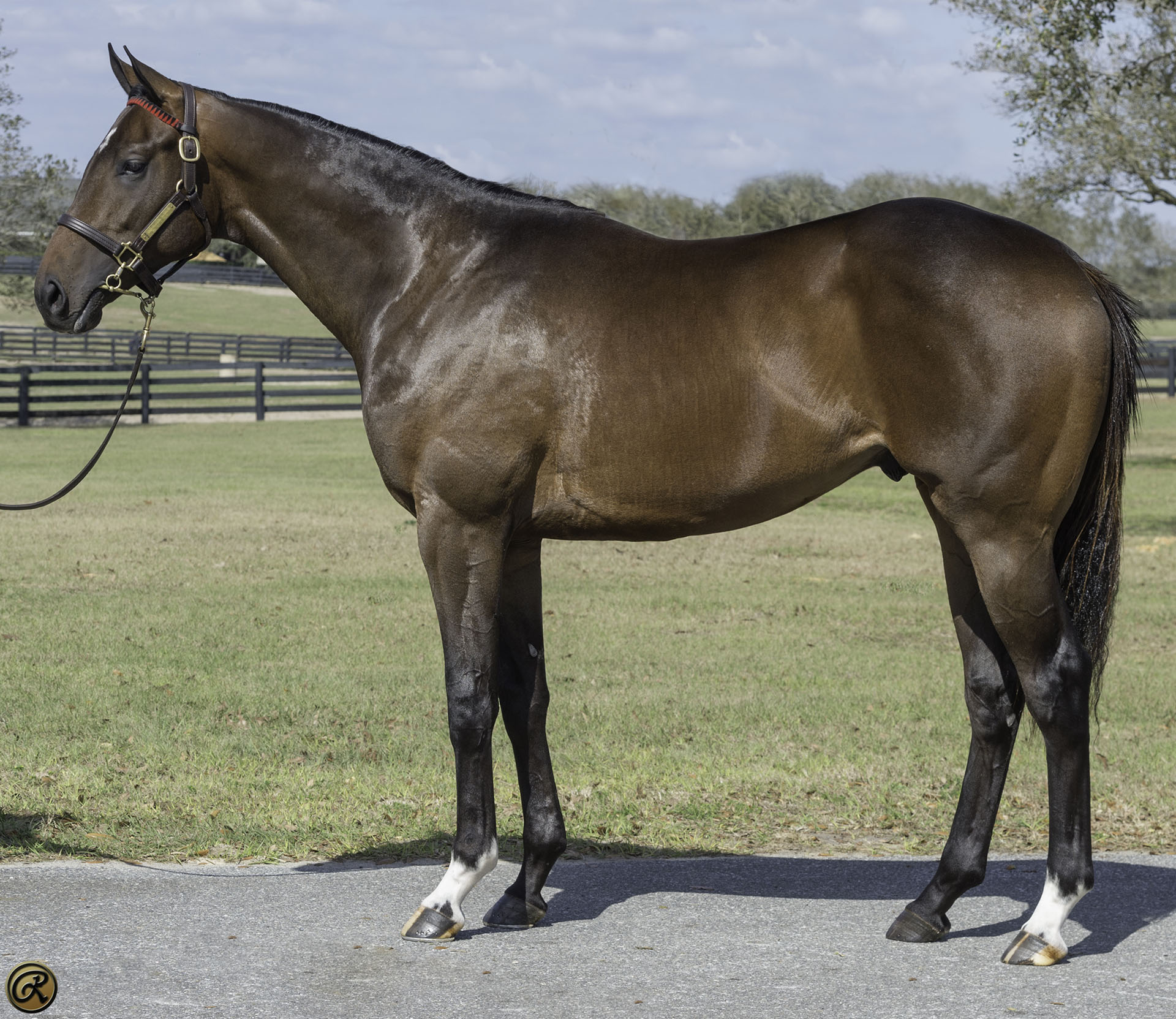 Purchased for $250,000
By A.P. Indy's most prolific stakes siring son, and from an outstanding Phipps family, this colt is a full-brother to two highly talented performers.
He is by Malibu Moon, a stallion responsible for nearly 130 stakes winners, 51 of them graded. They include the Kentucky Derby (G1) victor Orb; Champion Two-Year-Old Male Declan's Moon; Santa Anita Derby (G1) hero and promising young sire Gormley; Ransom the Moon, Magnum Moon, Devil May Care, Life At Ten, Moonshine Memories, Come Dancing, Malibu Prayer, and Carina Mia among a total of 17 grade one scorers.
The dam, Danzig's daughter, Leaveminthedust, is the dam of eight winners from eight starters. They are led by this colt's full brothers, Leavem in Malibu and Danzig Moon. Leavem in Malibu won or placed in ten of twelve lifetime starts and earned a graded stakes victory when defeating eleven opponents in the Valedictory Stakes (G3). He also hit the board in two legs of the Canadian Triple Crown, thus earning black-type on all three surfaces. Classic contender Danzig Moon took second to Carpe Diem in the Blue Grass Stakes (G1), earning a spot in the Kentucky Derby, where he finished just over six lengths behind American Pharoah while defeating standouts like as Keen Ice, Carpe Diem, and Upstart, a noteworthy up and coming stallion.
Leaveminthedust herself is a full or half sibling to a trio of graded stakes winners in Defer (by Danzig), Reload (by Hard Spun, a son of Danzig), and Philanthropist (by Kris S.), all of whom retired to stallion careers.
Second dam Hidden Reserve was a four-time winner who placed in three graded stakes events. A daughter of Mr. Prospector, she is a sister to both stakes winner and sire Diamond and the Frizette Stakes (G1) and Top Flight Handicap (G1) winner Educated Risk, who produced stakes winners Consequence and Strategy and is ancestress to four other stakes winners. Hidden Reserve is also half-sister to Hall of Famer Inside Information, the dam of Champion Three-Year-Old Filly Smuggler and granddam of multiple graded stakes winning millionaire and sire Gone Astray.
Leaveminthedust's granddam, Pure Profit, is half-sister to Quick As Lightning, who captured the classic English 1,000 Guineas (G1). They descend from the legendary foundation mare Grey Flight, ancestress of more than 200 stakes winners, including twice Leading Sire What a Pleasure, a brother to the dam of Pure Profit; Champion Two-Year-Olds Bold Lad and Successor; Champion Sprinter and Hall of Fame nominee Kona Gold; Intrepid Hero, Time For A Change, Patches, Caller One, Gomo, Bella Sofia, and a total of 29 grade one winners.
We should also note that this very well-bred colt is a registered New York-bred, making him eligible for that state's very lucrative program. New York-breds are able to compete in restricted races at every level, including stakes races, and can earn owner awards for hitting the board against open company in New York.
Watch all three colts breeze prior to the sale:
At this time, our minimum subscription amount is 2.5% ($22,500) with a total capitalization of $900,000.  That accounts for all of their expenses through the conclusion of 2022 and includes contributions to our Equine Retirement Fund. We are eagerly awaiting the future of these stunning colts and can't wait for you to join us on their journeys. All three colts will unwind from the sale in Middleburg before targeting shipping to the racetrack. Please contact the office for more information or if you would like a hard copy brochure.